How to find your Ring size?

When you are looking for silver rings online, it is even more important to make sure you know what your ring size is.

How do you measure your ring size?

Measuring your ring size is pretty easy, you won't need to do it every time you are buying a new ring, unless you are buying one for a new finger. Jewelers can measure your ring size using a special measuring device, but you can do it yourself easily at home. Finding your ring size won't take a minute or so.

How to measure your ring size by using a tape measure?

You can measure your ring size easily using a tape measure that you have at your home. Wrap the tape measure around your finger. It must be wrapped around the base of the finger under the knuckle. To mark the size, use a marker to draw a line where the tape measure connects. Unwrap the tape measure and note the size where the marker is. Once you know your finger size in cm/inches, you can use those measurements to determine the ring size from the chart below.

If you do not have a tape measure on hand, you can use a piece of string or a strip of paper to measure your finger in the same way. Once you have wrapped it around your finger, lay the string or paper along a ruler to find out exactly how long it is. When you know how long it is you can use that length to find the corresponding ring size.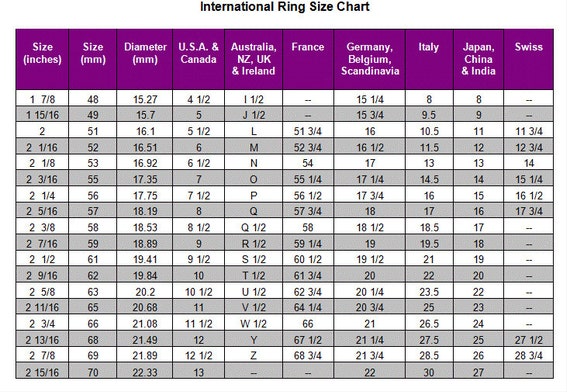 Keep these factors in mind when you are measuring your ring size.

Here is some significant tips that you need to consider before you find your ring size. It is important to remember that the size of your finger changes throughout the day. Your fingers shrink when it is cold and will expand when it is hot. You also want to consider that your knuckle may also play a part in the ring size. The ring has to fit over the knuckles, if you have larger knuckles, measure them when you measure your finger. Once you have the base measurement and the knuckle measurement, find a size between those two measurements. A ring that is too big at the base will roll around too much and become uncomfortable. Here some neifall tips about your finger sizes.

The temperature: Temperature plays a role in the size of your finger. When you are hot, your fingers will swell slightly, increasing in size. When it is cold, your fingers shrink. If you are trying to find out your ring size, take your measurements at the end of the day. If you measure it when your fingers are cold, the size will be incorrect. It will more than likely be too small, which means you will order a ring that is too small.
Don't measure just once:It is a good idea to take the measurements of your finger more than once before you purchase your silver ring from neifall. You finger does change size throughout the day and if you only take one measurement, it will probably not be correct. Use the same tape measure or string to measure your ring size a few times.
Consider the ring type when measuring your ring size. When you are trying to find out what ring size you are, consider the type of sterling silver rings you want to buy. For wider rings, you need a slightly larger size, add between 0.25 and 0.5 size if you are buying a wide ring. When you are ordering an ornate ring or having one made, make sure you get the size right, these rings are hard to make bigger or smaller, so it is vital to find the right size.
Fingers come in different sizes:Your fingers are not the same size, even the finger on one hand is not the same size as the same finger on the other hand. Your dominant hand will have slightly thicker fingers than the opposite hand. Therefore, when you are looking to get silver ring for your dominant hand it will be slightly larger size. Also blood When you are figuring out your ring size, make sure you take the measurements on every single finger you want to buy a ring for.
Measure the knuckles:Every ring has to go over your knuckles, remember this when you are measuring your ring size. It is a good idea to measure both the base of your finger and the knuckle. If you have larger knuckles, your ring might not be able to fit over the knuckles.
If you are in between two ring sizes, choose the larger ring size:When you are measuring your finger, you might find that two sizes seem to fit. If this is the case, opt for the bigger of the two sizes. If you choose the smaller ring size, it may end up not fitting your correctly.

Some rings can't be resized,It is possible to resize some rings, so if you receive a ring as a gift that is too small or too big, you might be able to resize it, This process won't take too long and it is not really expensive. In UK if you take a silver ring to resize to your local jewellery that would cost you between 5 to 20 depending on your local jewelers. but this is procedure is not possible for all rings. Some rings cannot be resized. Rings like, eternity rings, ornate bands and silver rings generally can't be made bigger or smaller. Jewelers will generally let you know which of their rings can be resized and which ones cannot.

Finding out someone else's ring size:

Finding out the ring size of someone else can be a little harder. The safest way to find out their ring size is to find a ring that they already wear, one that fits comfortable and is similar in design to the ring you want to buy. You can also ask family or friends to help you figure the size out.

Don't Panic!! Here is what to do when your ring stuck on your finger.
First thing first take a deep breath and calm down! If you panic and try to take your ring off multi time, that might cause swelling and make the problem bigger. Wash your hands with very cold water so this will help your finger shrink a little and put lots of soap on your finger. Most probably that will solve your problem however if you couldn't manage to take the ring off from your finger, lubricants, olive oil, hand cream even butter can help you take the ring off.